London Civic Forum Launches New Paper - Take Part in London's Big Society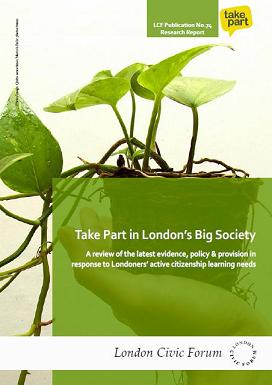 This review collates and analyses the latest research evidence, policy developments and current provision around active citizenship learning in the capital. It should prove a useful tool for anyone developing strategies for supporting active citizenship in London at present.
The paper explores the range of new participation opportunities for Londoners created by Big Society-related policy and initiatives; reviews evidence around London's participation landscape, exploring the nature of active citizenship in the capital and particular needs which emerge from the city's unique social and economic characteristics (also identifying social groups at risk of exclusion, issues around cohesion, extensive 'under the radar' community activity and existing social capital, and emergent forms of participation); and analyses a mapping of active citizenship learning opportunities for Londoners, in order to identify strengths and gaps in provision.
Six key conclusions are drawn from this review, which are embedded in LCF's new Take Part London Programme.
Click here to read the review.
Other Research & Resources
- New report by the Royal Society of Arts, 'Beyond the Big Society: the Psychological Foundations of Participation'. Click here to read the report.
- Ten year long study shows that political awareness has increased amongst those who have had citizenship education. Click here to read the research.
- Participedia is an open global knowledge community for researchers and practitioners in the field of democratic innovation and public engagement. Have a look at the website here.
- Baroness Newlove, the government's 'champion for active and safer communities' has put out a new report primarily for 'grasroots activists'. The paper is called 'Building Active, Safer Communities: Strong foundations by local people' can be found here.
Cover Image from: Quito sometimes Marco's flickr photostream